About Hakka Lei Cha
---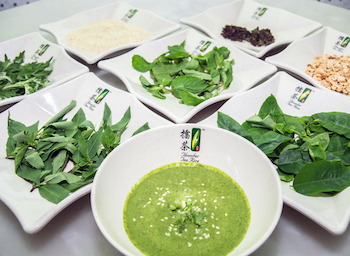 The word 'Lei' means 'Grind' in Chinese but some define it as 'thunder'. The latter definition was partly because of the thunder-like pounding sound during the grinding process of the ingredients. 'Cha' means tea. 'Lei Cha' is a popular Hakka dish made of tea leaves, herbs, sesame and nuts.
Hakka Lei Cha is all about herbs, vegetables and tofu. Hakka Lei Cha is a low fat, low cholesterol diet ideal for body detoxification and weight management. Many types of herbs are used in the making of Hakka Lei Cha thus it has high therapeutic and curative value. It is especially effective for cold, flu, cough and some common sickness. Hakka Lei Cha is also effective in treating joint pains and in removing stomach wind and gas.
But being a laborious affair, most Hakka families only serve Lei Cha occasionally, when friends or relatives come from afar to visit. It is also a tradition of Hakka Families to invite very special guests to grind their own Hakka Lei Cha Paste. Such an invitation is considered a great honour for the guest.
Traditionally, Hakka Lei Cha is served on the first day of the Lunar New Year as it was believed that one should not slaughter animals during this auspicious day.
Hakka Lei Cha is also a must on the Seventh Day of the Lunar New Year know as 'Ren Re' or 'Everyone's Birthday' where seven types of herbs and seven types of vegetables are used in making this special dish for the prosperity of everyone on Earth.
With the fast pace in this modern world, Lei Cha is slowing losing its appeal to the younger generations. The main reason being it is hard to get the authentic tools (clay mortar and wooden pestle). Secondly, most Lei Cha herbs are not easily available in the market. Only the true Hakka families will plant these herbs around their houses for personal use. Thirdly, most people would not have the time and patient for such an elaborated meal that needs tedious and laborious preparation.
Tools for Making Hakka Lei Cha
---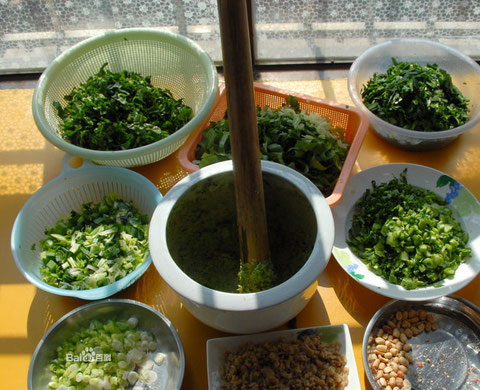 Traditionally, specially made grinding pots and wooden sticks are used to grind and mix the ingredients together into a fine paste that emanates a special and unique aroma of Hakka Lei Cha. The Mortar, fondly called 'Lei Cha Putt' is a clay pot with a diameter of 20cm to 24cm. The pot has scratched lines in the inner surface to make the surface coarse to facilitate the grinding process. The Pestle, traditionally called 'Lei Cha Kun' is made of a 4cm diameter tree stem of about 2 feet in length is used for grinding. This 'Lei Cha Kun' is not available in the market. Usually 'Lei Cha Kun' is hand-made from either a guava tree or a tea tree from one's own garden. Only trees with edible stems are used as they are usually hard and durable for use and more importantly, are edible. As a matter of fact, the 'Lei Cha Kun' forms a part of the ingredients as its residue mixes with the paste and emanates a fragrance. The 'Lei Cha Kun' shortens as it is used. How long it lasts depends on its use. In modern times, blenders are used instead of the traditional mortar and pestle. However, the taste and texture of the dish will be compromised if it is not prepared properly. The other effect of the use of modern equipments is the loss of its tradition and 'Art of Hakka Lei Cha ', which is a part of authentic Hakka culture.
The Benefits of Hakka Lei Cha
Hakka Lei Cha - The Gastronomic Delight that has won wars in ancient times, can now keep you fit and healthy today.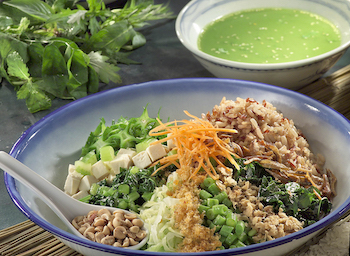 Lei Cha is a signature dish for Hakka families. Hakka Lei Cha is now a popular dish among many ethnic groups especially the health conscious urbanites, as frequent consumption of Hakka Lei Cha promotes good health and improves vitality.
Dietary value: It is high in fibre and rich in nutrients. It is a tasty and appetizing health food. It has strong aromatic flavour and it tantalizes the taste buds. Hakka Lei Cha is a low fat and low cholesterol diet. It is most effective for health and weight management.
Physical value: Hakka Lei Cha increases metabolism rate and in body detoxification as it helps to drain excess body fluid waste, as such it enhances slimming and weight management programs. The tedious way of preparing Hakka Lei Cha dish also contributes as a physical work out especially during the hour-long grinding to make the Hakka Lei Cha paste.
Pharmacological value: Hakka Lei Cha is well known for its excellent medical and pharmacological value. It helps to improve bodily functions, ease digestion, and ease chronic bronchitis. It is effective for chronic rheumatism and arthritis, inhibiting cancer cell growth, helps treat diabetes, and lower cholesterol level. It enhances relaxation and promotes good sleep as well as improving skin texture.
The Hakka Lei Cha philosophy: The process of Hakka Lei Cha making is long and tedious thus having similarity to life. Life can be tough having to put a lot of hard work at first, but are the essential ingrediants to success. Especially when enough effort and passion has been devoted to what you are doing.